It's our belief that including a dedicated Australian small companies fund in a diversified portfolio is ultimately beneficial to investor outcomes.  Small companies are those which fall between the S&P/ASX 100 and S&P/ASX 300 and are in the early phase of their lifecycle, thereby providing investors with the potential for significant capital growth.
The two key benefits for investing in smaller company active funds are:
strong outperformance potential via high-quality active managers, and
enhanced sector diversification
Less efficient market = greater outperformance potential
While proponents of the efficient-market hypothesis would argue that share prices reflect all known information, stocks within the small cap index remain poorly covered by brokers and the market in general.  
For example:

This lack of coverage allows for increased inefficiencies, which in turn create opportunities for experienced and skilled active managers to offer differentiated portfolios, identify new investment ideas and be part of the discovery process as companies emerge from new investment or outstanding management. 
Importantly, our rated active small cap managers have broadly delivered excess returns over the long term, proving that manager skill in a more diverse and under-researched opportunity set can be translated into more substantial and consistent outperformance relative to large cap managers.
The chart below highlights the persistent outperformance profile of Zenith's rated small cap managers since 2009.
In addition, the table below shows the proportion of large, small and long/short managers that have outperformed their respective benchmark over the last 7 years ending 31 May 2022.

As can be seen from the table above, the proportion of outperforming managers is skewed towards small cap managers. Importantly, however, we stress that outperformance from small cap managers is not linear, therefore investors should expect periods of underperformance over shorter timeframes. Furthermore, we acknowledge the downside of investing in small caps, namely larger drawdowns, lower liquidity and higher volatility.  Therefore, we believe active management is crucial to investing in this space.
Sector diversity
An important benefit of the small cap universe is the sector diversification it offers. The Australian shares index is characterised by its sector concentration, with the index dominated by the financials and materials sectors.  These sectors and their underlying growth prospects can be vulnerable to macro themes, such as low interest rates or low inflation which characterised the decade following the GFC.  
The chart below compares the sector allocation between a portfolio with a 70% Australian large / 30% Australian small cap exposure with the sector allocation of the Australian shares index.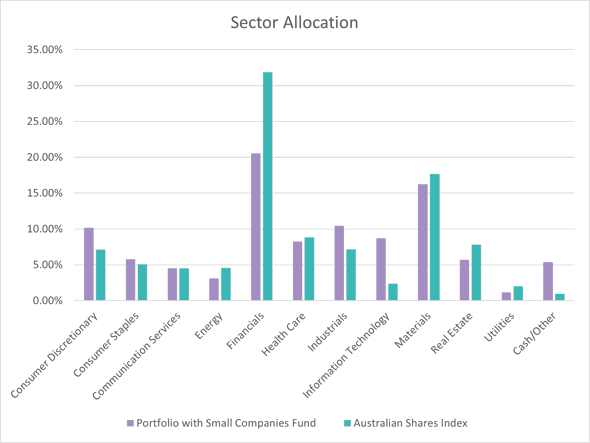 The portfolio with an Australian small companies allocation provides a greater balance across the sectors.  Most notably, there's a reduced exposure to financials and a higher weighting in underrepresented sectors such as information technology and consumer discretionary.
The enhanced sector diversity means that the investor's portfolio is less sensitive to significant movements in any one sector when compared with the Australian shares index.
Recent headwinds
2022 has clearly been an extremely challenging period for small cap managers, particularly those with a quality-focus who exclude single mine or single commodity resource stocks from their investable universe.  However, the flipside is that these managers will typically rebound hardest when the pendulum inevitably swings.
Small resource companies have been clear beneficiaries in the commodity rally, spurred on by the energy and agricultural displacements from the Russian / Ukraine war and long-term under-investment in mining projects.
Many of the companies that comprise the small resources universe are highly speculative in nature.  They are often single mine owners, typically exposed to one commodity and have an extremely volatile (or nil) earnings stream. Two key drivers of share price performance for small mining companies are exploration success and commodity price movements, leading to a greater level of risk from uncontrollable factors.   In the absence of fundamental earnings support, these companies may be vulnerable to steep share price falls should the mining cycle dissipate, and commodity prices fall back to earth.  We've observed signs of this more recently as the market weighs up recession probabilities.
The chart below demonstrates how small cap resources have enjoyed intense, yet sporadic periods of outperformance.  Conversely, small cap industrials have enjoyed a much smoother ride with less severe drawdowns.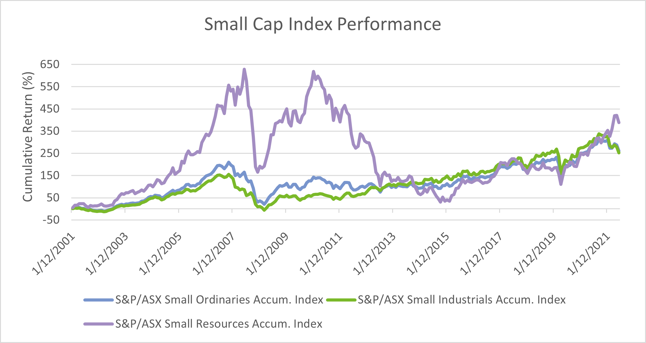 We remind investors that their Australian large cap managers will typically provide exposure to higher-quality, more diversified and profitable mining companies such as BHP and Rio Tinto.
Conclusion
In summary, we believe an allocation to a high-quality, active Australian small cap manager can materially improve the outperformance potential of an investor's portfolio. While smaller companies are typically riskier investments, the small index offers greater sector diversity thereby providing investors with a more balanced exposure to the Australian share market.