In an environment of increased market volatility, investors can look to market neutral strategies to generate attractive returns with reduced risk, according to Zenith Investment Partners Senior Investment Analyst Jock Allen.
"With equities going up, down, and sideways, it can be challenging to determine where to invest your client's money," Allen says.
"Market neutral strategies are a good alternative in this environment. They can deliver absolute returns that are uncorrelated to the broader equity market returns.
"Unlike traditional equity investments, market neutral managers hold offsetting long and short positions, resulting in a portfolio with limited equity market risk exposure and returns predominantly driven by stock-specific risk."
Allen says while the perception is that all market neutral managers are the same, and follow a single approach, this is not the case.
"The approaches undertaken by market neutral managers can vary significantly and lead to drastically different exposures along the risk/return spectrum."
To illustrate this variation in approach among market neutral managers, Zenith undertook research classifying the rated market neutral funds into three categories based on their risk and return characteristics – stable, balanced and return seeking.
"In classifying the products into these categories, we considered the typical leverage employed, realised volatility, and the historical ability to protect capital," Allen says.
The research found that risk levels progressively increased across the three categories, with each category offering a markedly different risk and return profile (see chart below).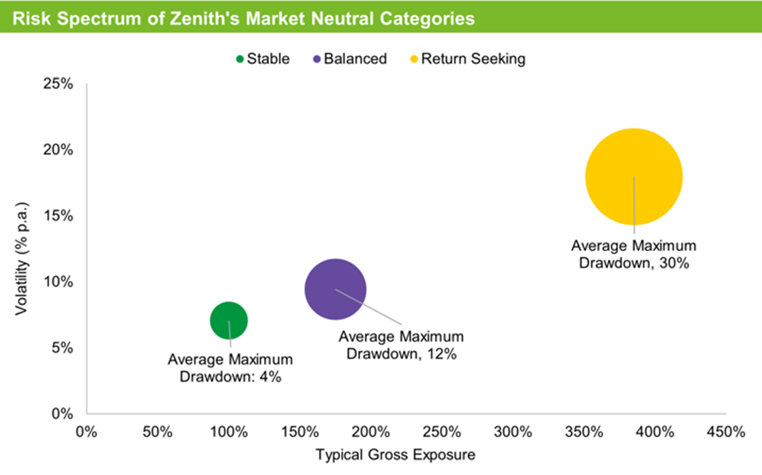 Source: Zenith Investment Partners
Allen said the research also shows a marked reduction in volatility for market neutral funds.
"As the chart below shows, all three categories demonstrated significant volatility reduction relative to the S&P/ASX 300 Index, with the relative reduction between categories remaining broadly consistent over the assessed period," he says.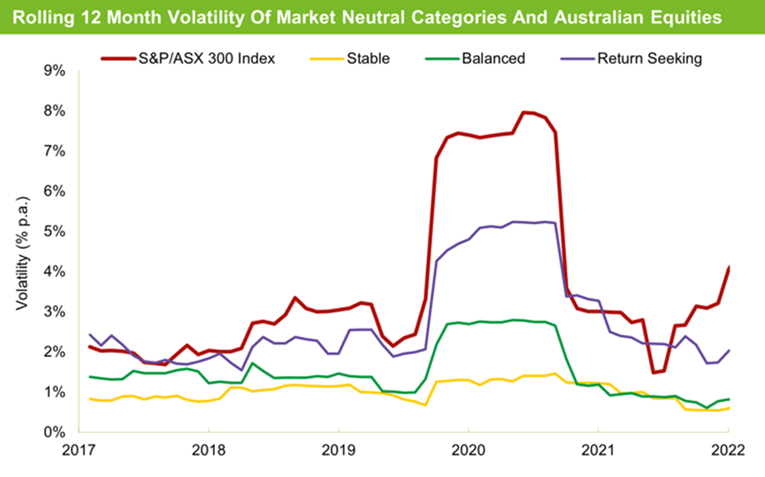 Source: Zenith Investment Partners
"From a drawdown perspective, the market neutral strategies were also successful in protecting investor capital in declining markets," Allen says.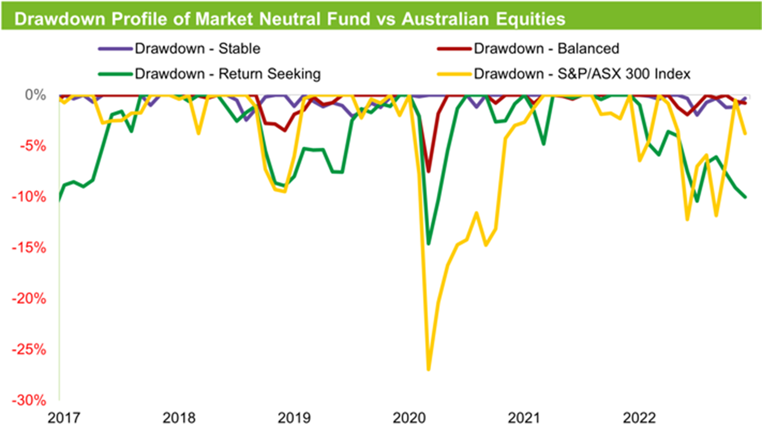 Source: Zenith Investment Partners
"The stable category protected capital most effectively, while the return-seeking funds experienced larger relative drawdowns," he says.
"Our analysis is clear. Despite increasing market volatility, Zenith rated market neutral strategies offer investors a compelling avenue for attractive and uncorrelated returns," Allen concludes.